TMJ Vision Problems
The link between your vision issues & TMJ Disorder
The jawbone's connected to … the eyes?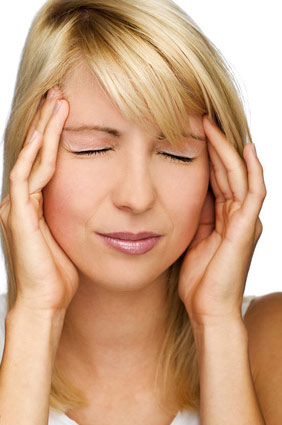 Of all of the problems that can be caused by disorders of the TMJ, eye strain or TMJ vision problems may seem to be the strangest. How can a joint that controls the jaw cause problems with your eyesight? Through muscles and nerves, your TMJ is wired to nearly everything else in your head, neck and face.
TMJ causes headaches, and headaches can, in turn, cause vision problems. Another factor is a nerve that is responsible for more than half of the total input to the brain: the trigeminal nerve. Understanding a bit about the trigeminal nerve will make it easy to see the connection between TMJ disorder and vision.
The trigeminal nerve has three branches:
Ophthalmic (pertaining to the eye)
Maxillary (pertaining to the upper jaw bone)
Mandibular (pertaining to the upper jaw bone)
The Sphenopalatine Ganglion is on the Maxillary Division of the Trigeminal Nerve and it carries Autonomic nerves, both Sympathetic and Parasympathetic to the Trigeminal Nerve.  These nerves travel throughout the trigeminal system and to the brain.  A simple Sphenopalatine Ganglion Block can give Amazing, often almost immediate relief of symptoms.  Dr Shapira teaches courses on blocking the Sphenopalatine Ganglion both nationally and internationally.  He is one of the only doctors who teaches "Self Administration of SPG Blocks" with cotton tipped nasal cannulas.
SPG Blocks can treat Migraines, Chronic Daily Headaches and many painful conditions of the Ears, Eyes, Sinus and Nasal regions.
Your TMJ: It's got a lot of nerve
These three nerve braches make the connection between the jaw and the eyes rather clear. TMJ pain is transmitted through these nerve pathways, and it can result in pain in other parts of the face. Many TMJ patients experience disturbances in vision.
Other common complaints are:
Retro-orbital Pain or pain behind the eyes
pressure behind the eyes
blurry vision
watery eyes
eye strain
sensitivity to light, OFTEN SEVERE AND SOMETIMES MISTAKENLY THOUGHT TO BE MIGRAINE
floaters (small moving spots that you see in your field of vision)
Droopy Eyelids
FLASHING LIGHTS IN THE EYES MAY BE RETINAL DETACHMENT! SEEK IMMEDIATE MEDICAL CARE WITH OPTHAMOLOGIST.
Many patients feel they have a vision problem because pain makes it difficult to read, especially small print or off a computer
Beware the domino effect
Our reaction to pain can often make the situation worse. When we feel the pain of a headache, jaw pain, neck pain or other pain related to TMJ, we unconsciously respond by positioning ourselves differently or using our muscles differently in an attempt to alleviate the pain.
Pain in the face or head can have a domino effect, with one issue leading to another through the trigeminal nerve or our own reactions to the pain.
See our patient testimonials
Check your habits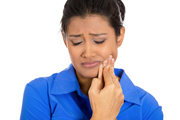 Your TMJ is an important – and potentially problematic – part of your body.
The two joints lie on either side of the head between the mandible; the lower jaw, and the temporal bone at the base of the skull. It's what allows our jaws to open and close. Because using our jaws is involved in two of the primary functions of our lives: eating and speaking, the TM joints are susceptible to issues.
A TMJ disorder can be caused suddenly by an injury to the head or face, but more often, it builds up gradually. It can be due to our behavior or habits.
Some common habitual causes of TMJ disorder are:
Teeth clenching
Eating hard foods frequently or taking oversized bites
Poor posture
People who sing or speak for a living may be more likely to encounter TMJ issues. Anyone can develop TMJ problems, and in order to get rid of the pain, vision problems, or other issues caused by TMJ, the TMJ problem itself must be eliminated.
The field of TMJ and orofacial pain covers a wide variety of problems and differential diagnosis of orofacial pain is important.
Get relief from TMJ Vision Problems
TMJ is best treated with non-invasive methods that do not permanently change the structure of the jaw or teeth. Pain relievers can help, and there are jaw and posture exercises that can bring relief to TMJ sufferers.  If you are experiencing vision problems, headaches, jaw pain or facial pain, TMJ could be the cause.
To learn more about TMJ or to make a consultation appointment, contact our office.