TMJ Throat Pain
Learn more about TMJ affects on throat & swallowing
TMJ throat pain and swallowing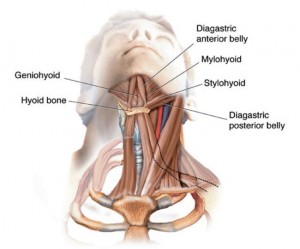 Headaches, neck pain, sore throat, waking up feeling tired – these are all common problems that many people encounter and think nothing of. If you wake up feeling tired every day, or wake up with a headache, or take aspirin or pain medications several times a week or even every day, you could have a problem with your temporomandibular joint (TMJ).
TMJ problems affect 75% of the population at some time in their lives. Many people don't realize they have a TMJ problem until certain symptoms become severe enough to cause them to seek medical help. Difficulty chewing and swallowing can be one of the most frightening TMJ symptoms.
The TMJ is one of the most active joints in the body. It lies between the mandible, which is the lower jaw bone, and the temporal bone, which is a bone at the side of the head. These joints that lie near the ears on both sides of the head go into action whenever we talk, chew, swallow, yawn, breathe through the mouth or do anything else that involves opening and closing our jaws.
The Medial Pterygoid Muscle is closely associated with throat pain, pain on swallowing or the feeling that something is stuck in the throat.  This same muscle when shortened or in spasm creates a massive medial pull causing jaw flexion and increased TMJoint pressure.
When you think about this, it is easy to see why the TMJ is such an active joint, and why in a person's lifetime this extremely hardworking joint is bound to develop some problems.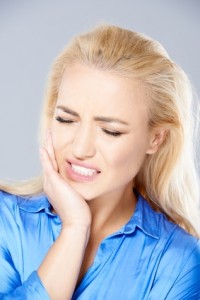 One of the most alarming signs of TMJ disorder (which is sometimes abbreviated as TMD or simply TMJ) is having trouble swallowing or pain when swallowing. The TMJ is cushioned by a soft disk that allows it to move smoothly, but sometimes this disk can move out of place. This is why TMJ can cause throat pain and other issues; without the disk giving shock absorption and cushioning, the normal smooth movement of the joint is compromised and the result can be pain when moving the jaws.
When TMJ causes swallowing difficulty or swallowing pain, it can be frightening. Another experience of TMJ sufferers is clicking sounds when opening and closing the mouth, or even temporary jaw locking.  When associated with sleep disordered breathing it can also cause GERD or Gastric Reflux.
TMJ Problems Can Be Alieviated and/or Eliminated
The bad news is that there is actually no complete cure for TMJ disorders. The good news is that  there are treatments and answers and no one who suffers from TMJ symptoms is alone. While jaw locking or throat pain and difficulty swallowing can be disturbing, pain relievers can help, and there are simple things TMJ sufferers can do to alleviate their symptoms.
See our patient testimonials
Doctors and dentists who treat TMJ patients recommend conservative treatment. Pain relievers and mouth and jaw exercises are often prescribed.  A diagnostic physiologic orthotic is usually an initial treatment for more severe TMJ disorders while ore mild problems can be treated with a bruxism appliance that is worn only at night. The orthotic is called a stabilization splint. As these do not permanently change the patient's bite, they fall under the category of conservative treatment.
Other self-help treatments that can help with TMJ are breathing exercises, relaxation techniques, a change in diet (to softer foods) and avoiding gum chewing or extreme jaw movements.
The use of Sphenopalatine Ganglion Blocks can give amazing results for throat pain.  They are actually used for intractable throat pain in cancer patients.  Learn more at www.SphenopalatineGanglionblocks.com   Dr Shapira is an expert on these blocks and has lectured nationally and internationally on the subject.  He also has a website dedicated to Sphenopalatine Ganglion Blocks  (SPG Blocks).  www.sphenopalatineganglionblocks.com
Dr Shapira's youtube channel has patient testimonial videos on a wide variety of treatments including SPG Blocks.  https://www.youtube.com/channel/UCk9Bfz6pklC7_UluWFHzLrg/videos
Invasive  surgical treatments for TMJ can be undertaken, but these are irreversible and have not been proven to be effective at alleviating symptoms.  Minimally invasive treatments like trigger point injections, prolotheapy and nerve blocks can give amazing pain relief and help you return to function with minimal risk or discomfort.
Currently, Botox is being utilized  for TMJ disorders and migraines.  The use of powerful toxic substances can be useful in breaking a cycle of pain but the long term effect is unknown.  Correcting the underlying causes of TMJ disorders can achieve the same or better results as Botulinum Toxin.  Botox is popular among neurologists who usually only write perscriptions for their patients.
If you have been experiencing any TMJ symptoms: headaches, ear ache, neck pain or stiffness, difficulty or pain when chewing or swallowing, clicking sounds when opening and closing your mouth, tooth pain or loose teeth, sensitivity to light, pain in the jaws or facial pain, you may be one of the many people who has some type of TMJ problem.
If you are interested in learning more about TMJ and ways that you can get relief from the pain and symptoms, contact our office. We can answer your questions or set up a consultation appointment.